Smartlipo Orlando, Plastic Surgeon Florida, Plastic Surgery Florida, Plastic Surgery Orlando, Cosmetic Surgeon Melbourne Florida, Cosmetic Surgeon Orlando
Patient Testimonials
Testimonials / Reviews
I went To Dr. Bassin a year ago in June 2016. I'm 49 years old. My surgery was May 26th 2017. I wanted to see if he could help me. He was very nice and the staff was very helpful. That's When I decided to make a life changing decision to change my eating habits, get a nutritionist, try to go the gym 5 days a week. After a year I finally decided it was the right time for me got as clean bill of health from my primary and headed back to see Dr. Bassin. I explained everything I am doing and why I felt I wanted to have Aqualipo on my abdomen. Years of eating bad, no amount of set ups was going to get rid of the fat I had put there. I knew this was going to be a tool to help me be better for me. With him and his caring staff they made me feel relaxed comfortable, even literally held my hand. I was back to work in 4 days I didn't feel much of anything. Just the 3 small areas to be numbed after that it was different. I'm still healing inside and a little swollen but I see results already. I'm very grateful for everything Dr. Bassin and his staff have done for me I will go back next year after I get so far and need a little help. My self-esteem is better than ever.
Thank you for everything.

Jackie B.
I came to Dr. Bassin's office because of my stomach. I have tried just to lose a few pounds to relieve the stuffiness. SmartLipo was the best investment. I went from a size 10 to size 6 in three months after the procedure. I should have exercised and taken better care of myself but with no exercise and diets, three years later I am still a size six!

The staff was warm and welcoming. It was a wonderful experience. I have recommended this procedure to everyone I know.

Shanti P.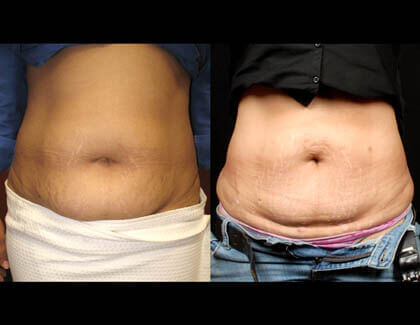 I saw the ad in the Florida Today for a seminar at the King Center with live demonstrations. I had areas of body fat that would not respond to diet or exercise. I had laser lipo on four different zones – bra bulge, love handles and my upper and lower abdomen. Even though there was discomfort I would do it again to achieve fat loss. Dr. Bassin and the nurses were very professional and supportive.

I am very satisfied with the results after 3 months. Dr. Bassin said results continue for up to 9 months following procedure.

The office staff was very cordial.

Robyn C.
I came to this office after viewing the website. I received EasyLift and Thermage on my arms and stomach. Amy was professional, thoughtful and tried to make me as comfortable as she could. I also chose the Easy Lift because I could have an in office procedure and no anesthesia. It did not bother me to be awake.
I will let you know about the thermage results as results are not seen for 3-10 months. It's been 2 weeks since the Easy Lift and I am very pleased. I feel like you really listened to my concerns and the results so far are wonderful.

The nursing staff: Amy, Clyde and Nancy are great.
I was ashamed of my appearance all my later life. I stayed in the background because I felt everyone was talking about me and my severe deep wrinkles. I finally decided I was going to do something about it for me and feel better about myself.
I received a mini facelift and Dot Laser Therapy. With the Mini facelift, the first 24 hours was very uncomfortable. But Dr. Bassin, Nancy and his staff are the most caring, wonderful and sweet people you could ever have.
My results are Wonderful!!! Wonderful!! I am thrilled beyond belief. Thank you!! Thank you!! Thank you!!
Linda V.
I attended Dr. Bassin's office because I was interested in Laserlipo. I had attended a seminar 02/2009 at the King Center, came in for consultation and scheduled appt. after learning more about the procedure. I ended up receiving Laserlipo on my abdomen and love handles.

The office staff was on-time, friendly, and organized with a laid-back atmosphere. They clearly explained pre-op instructions and answered all my questions (Nancy was great!). Each step of the procedure was explained during the surgery. I experienced very minimal discomfort.

I had good results.
I attended 3 of Dr. Bassin's seminars at the King Center. I "shopped around" but felt most comfortable with Dr. Bassin's relaxed manner and his specialty was face and eye surgery! I had an EasyLift and upper eyelid cosmetic surgery. My procedure went much better than I expected. The Novocain shots were tolerable and I was amazed I could converse with Dr. Bassin while he was performing the surgery. I am so happy I did not have general anesthesia.
So far I am pleased with my results. I am still waiting for some more of the swelling to go down and for the feeling in my left ear to come back. The office staff was pleasant. Nancy was my "knight in shining armor" when she "talked" with Walmart about not filling all my prescriptions…
Alice L.
I wanted laser resurfacing for my face. Dr. Bassin recommended Dot Therapy. I also wanted some work done on my stomach. Dr. Bassin ordered Thermage treatment for my stomach. After having both treatments done at the same time I thought that I would experience a great deal of downtime and discomfort. I was very happy that I did not have a great deal of downtime and did not experience too much discomfort.
My face looks and feels amazing. My stomach still needs time to achieve the full results.
Amy was very knowledgeable. She was patient and attentive. Not only did she call me herself but also gave me her own personal cell phone number so that I can call her whenever I had any questions or problems. I'm very pleased and happy with the results. I've referred several other women to Dr. Bassin.
Amelia L.
I saw Dr. Bassin on Oprah and was impressed with what I saw. I noticed my face was drooping and sagging and I wanted that gone. I also had the sagging neck and deep nasal lines. I decided to see Dr. Bassin and discuss the Mid Face Lift. I loved the fact that the procedure was in office with local numbing and was over within 2 hours. There was very little discomfort and within a week I looked great. Family and friends noticed I look 10-15 years younger! I would highly recommend this procedure for anyone who is concerned about their appearance.
I had a Face Lift. My experience with the procedure was easy and the results were better than expected. The office staff was very attentive.
I went to a live demonstration where Dr. Bassin did SmartLipo on a woman's knees and I made an appointment after that. I am 70 years old and I just wanted to feel better about myself. After my procedure I lost a lot of inches. I went from a size 14 to an 8.
I had SmartLipo on my abdomen and hip rolls. I also had Dot-Laser Therapy. I had a good experience. The doctor made me feel at ease. He took every precaution to make sure I knew exactly what he was doing. Dr. Bassin took his time with each thing he was doing and made sure I understood everything.
I am a 70 year old woman. I was a size 14 when I started and with SmartLipo and healthy eating, I am now a size 8. My skin is wrinkle free and I have no sun spots. Most people think I'm in my late 50's or 60 years old. They say I don't look 70.
The office staff was very nice and answered all of my questions. They called me after my procedure to see if I was feeling alright. I had very little pain. I am very satisfied. I recommend Dr. Bassin to my friend. She had two procedures and she is very happy with her results.
Judy C.
I came to the Dr. Bassin's office because I was tired of dieting and working out and still having loose skin in unwanted spots. I had SmartLipo on my knees, inner thighs, stomach, and under arms. The results are great, Thanks. After the procedure, I experienced soreness but it is bearable. The office staff was very thorough and polite.
After having 2 kids, my body was never the same. I exercised, tried different diets, lost weight but had a complex with my abdominal area. I contemplated tummy tuck for years but I have always been afraid of going under anesthesia and "the knife". Watching the news one day I saw a commercial on the Bassin Center, looked them up on the internet and watched some clippings of news interviews with Dr. Bassin. I did some research, made an appointment, and asked many questions. Dr. Bassin made me feel very comfortable, explaining what would be done and gave me an idea of what to expect.

Here I am today after my procedure giving you my testimonial and before and after pictures – the expectations that I envisioned are far more than what I expected! Thank you Dr. Bassin for my SmartLipo results!
My procedure was an experience that is not difficult to put into words; it was phenomenal. Staff was friendly, courteous, professional at all times. Dr. Bassin spoke to me during the procedure, explained with detail every step before hand. Dr. Bassin gave me an easy feel and made sure all of my concerns were addressed if I had any. To sum up these few sentences, I was able to have a conversation during my procedure, not feel what was being done and drive myself home without feeling uncomfortable.
I feel great! I am very confident now with my new appearance. There is a dramatic difference on my abdominal area. I'm not limited to wearing baggy clothes anymore to hide the huge imperfection I had after having 2 kids. It is unbelievable that no nip and tuck was necessary to get rid of the excess skin.
The office staff has always been courteous and professional. They looked out for my best interest, called me before my procedure, after, and even called me months later to see how I felt with the results. The fact that I matter to them after my procedure tells/shows me how much they care about their clients/patients. That distinguishes them from the rest.
I attended a Bassin Seminar and received 20% off. I also came to Dr. Bassin due to the successes of other friends. I had Dot-Laser thereapy. The procedure was efficient and quick – exactly as stated. My results showed fewer lines and softer skin – and is still processing. I also love the free facials – that alone would bring me back for more. All of the office staff employees are very nice people.
Lynda S.
I have tried for years to exercise and trim my belly fat but I couldn't get the results I was looking for. I had SmartLipo on my tummy. Dr. Bassin and his staff were fantastic! They are very professional and caring. I was nervous and they put me at ease. They called me several times to follow up to ensure I was okay! The office staff was wonderful!!! My results are very good!
Linda M.
Dear Dr. Bassin,
This letter is to tell you how much I appreciate your art. My eyes look good. No more puffiness. Good job. Also want to thank your staff, especially Nancy who held my hand. Everybody is very professional, friendly and caring.

Thank you
Affectionately,
Leah A.
I came to this office because I saw a presentation at King Center. I was self-conscious of the wrinkles on my eyes (lids). Dr. Bassin suggested eyelid surgery and a brow lift. The results were very good.
Vicki B.
Build up of fat under my chin was bothersome to me because it made me look older. I did some research and found Dr. Bassin.

My experience with Dr. Bassin's staff was very pleasant and comforting. The SmartLipo procedure was quick and pain-free. The result so far is very, very good. My chin area is significantly different in a good way. I am pleased. One of the best parts of the surgery was being awake the entire time and driving home right away. Fantastic!

I had SmartLipo on my chin and the experience was surprising! Why? No anesthesia, no pain, wide awake then being able to drive myself home. The results are excellent.

The office staff is both professional and friendly.
Judy S.
Dr. Bassin was recommended by Dr. James N. McManus after our discussion of my right eye upper eyelid, and an appointment was achieved. I had both upper eyelids reworked which were impairing my vision. My experience was exceptional and professional. As one week has passed, the procedure is coming along very well. The office staff was excellent.
I was recommended by (M.R.) to the Bassin Clinic.
I had surgery on both eye's, because my lower lid was drooping.
I was very pleased with the operational procedures.
Jack M.
2-1/2 years of being on Prednisone for Dermatomyositis and natural aging left me feeling like I looked much older than I felt. When I consulted with Plastic Surgeon, Dr. Roger Bassin, he recommended a cheek lift. I'm still recovering and doing great.Have been participating in my usual activities since the 2nd day of recovery.

Happy Birthday to me June 2nd when I'll be 70 - but no new car this year.
Sylivia

CLICK HERE TO SEE SYLIVIA'S DAY BY DAY EXPERIENCE OF RECOVERY & RESULTS CAPTURED IN PICTURES
I saw the magazine in the Sunday paper about The Bassin Clinic, it was of great interest to me. I called for an appointment and saw Dr. Bassin. He recommended laser peel and some fill in the lines. I had so many compliments on my skin. I have been very happy with the results.

Lost weight and had lots of loose skin on my neck so I came back and had a complete face lift and the results are great. I'm very happy with what they have done for me.
Shirley

Aesthetic Seminar held in Vero Beach, March 28, 2009. Ad in paper was well written & promised a good explanation of latest techniques and expected results.
Lower mini facelift and smartlipo-lower abdominal area.
Abdominal Lipo was no problem at all. Recovery was easy. Facial minilift had more discomfort during healing, 3 weeks. Some bruising but nothing too hard to live with. Stitches proved to be main culprit for discomfort.
Could not be better-very happy, nice natural results due to expertise & philosophy of Dr. Bassin.
They are there for your every need-just call with any questions they get right back to you.
Susan
Attended a professional aesthetic Seminar in Vero Beach. My upper eyelids and lower eyelids gave me the appearance of the "masked man" the Lone Ranger.
Needed a professional eval & corrective surgery consult. Biographical data indicated a physician willing to invest $$$ for the latest equipment to effect the best results.
Simultaneous upper and lower eyelid surgery; to remove excess upper lid skin and remove lower lid fat pads.
Eyelid procedure was performed quickly uneventful. Discomfort being locally anesthetized was tolerable. Short lived periods of pain. After 30 days, healing is near complete and should progress with less discomfort.
Very nice, sympathetic & professional. Dr. Bassin is very personable, takes pride in doing work at a high level of excellence. He feels relaxed & confident in choosing the best procedure for your individual concern. Works quickly and confidently.
Paul
Dear Dr. Bassin,
After you did a fantastic job with my "Easy Lift" and my eyelid surgery in December 2008, I had the misfortune to fall and open up the stitches. I came back to you to show you the damage done to my lower eyelid and you offered to redo it pro-bono. This note is to show you my deepest appreciation for your kindness and excellent care. My eyes look great now and I am myself again thanks to you. Again, thank you for your time and expert care. I am extremely grateful.
Elisa M.
I have been dieting and exercising and could not lose my belly fat. I have been watching Dr. Bassin's ad for Smart Lipo for a long time. I finally came into the office and spoke to the staff. They are wonderful, helpful and answered all my questions. The procedure was fast and simple. There was no recovery time! I fit so much better in my clothing. I still need to continue my diet and exercise program but it feels better now!
I had Smart Lipo to abdomen and it was wonderful! I fit so much better in all my clothes. There was no down time and no pain. My skin is over 50 years old and I have been a sun worshipper since the beginning of time. I have age spots, wrinkles, and just plain dull skin. When Dr. Bassin mentioned the Dot Laser procedure, I knew it would help my condition. My skin feels young and new again. This time I'll treat it with a little more respect. After the Dot Laser, I experienced a little discomfort, but my face lost 20 years of sun damage! People actually tell me I have nice skin!
My face feels so smooth and silky. I don't look in the mirror and wonder what to cover up anymore. With the Smart Lipo my belly is wonderful! My stretch marks have almost disappeared and my belly no longer hangs over my favorite jeans. Dr. Bassin's office staff is wonderful! They were attentive, informative, and always ready with a smile. Working in the health field myself, I can understand stresses they undergo and everyone was terrific. I felt in good hands before, during, and after both procedures.
Joy R.
My sister Joy was a model for Smart Lipo with Dr. Bassin. I was jealous! She had such a flat tummy. I had been trying to lose my stomach fat for so long I had to come in and meet Dr. Bassin! When I met the doctor and his staff, they made me feel so comfortable. I couldn't wait to have my surgery.
There was no pain during the procedure. I had my procedure done at a seminar so there were many people watching. I was able to smile and talk throughout the surgery. When the procedure was over, I stood right up and felt completely fine. I felt as if there was really no recovery time. Two days after the procedure I was painting my living room. My results have been great! Every day it seems my stomach gets more flat. I have had 4 children and many stretch marks. While I still have some, they are much tighter and less noticeable. From the first moment I entered the office Dr. Bassin's office staff made me feel comfortable. When I went to have my procedure the nurses were fabulous! They had me laughing right away. Dr. Bassin is beyond wonderful!
Jill H.
I came to see Dr. Bassin because, when I looked in the mirror, I saw a face that looked tired and a neck that had saggy skin. When I wore necklaces, it seemed to me that everyone looked at the saggy skin and not my jewelry. My eyes always looked swollen and also needed fixed. Dr. Bassin recommended an "Easy Lift" and Upper Eyelid Surgery or Blepharoplasty. The procedures were done; I was back home feeling great. My eyes are beautiful and I try on necklaces all the time. My daughters and I went shopping together and we are asked if we are sisters. That hasn't been asked in years. Dr. Bassin's nurse Nancy is a jewel. She explained everything in advance and put all my nerves to rest. Dr. Bassin's entire staff is very pleasant.

Both procedures were a cake walk, whatever made me wait so long, I'll never know.
Sandee S.
Thank you, thank you so much. Your staff is wonderful and your skills are excellent! I am so pleased with my Smart Lipo abdomen results. When I come in for my post op, I would like to see you for my "wings". You are the best. I can't say enough. If there is ever something I can do for you, let me know.
I am now motivated to lose that last 10 pounds and have my back done. Everyone that I know will certainly know how happy I am with the results and the procedure. I can actually compare the old and new lipo methods and this is so not invasive.
Thank you again and thanks to your great staff.
Joy R.
I have struggled with belly and midriff fat for so many years. I walk, exercise and watch what I eat, but in spurts, I have always been very thin except in those 2 areas. Finally in October 2008, I decided to do the Smart Lipo. It has been wonderful. My tummy is gone and my waist has gone from a 28" to 25 1/2" in one month. My whole experience was so good and I am very happy with the results. My husband had Dr. Bassin do his lower tummy, love handles and chin. It has been really good for him also We have been weighing and measuring now and rally feel good about ourselves. Last week, I have DOT Therapy on my face. I had lots of of sun damage and had it lasered. Now I look like I have makeup on when I don't. I just feel like a new person. Now my friends are having procedures done by Dr. Bassin.
Thank you, Dr. Bassin and your wonderful staff.
Joanne B.
After my decision to have a facelift…In the beginning, immediately following any surgery, I was a little nervous. Let's face it, with a face slightly a swollen and slightly painful, I even questioned my desire to have had the surgery. These feelings diminished within just a few days as the healing process began and my look of a much more refreshed, youthful appearance began to appear. Much to my surprise, this healing process was much quicker than I expected I realized for the first time just how more confident I had become in myself, mostly because of an aging face I felt was so different than my "inner self". After just a few weeks following surgery, I felt so radiant and confident. I just couldn't believe how this transformation literally changed my life. My attitude toward myself because of my appearance has given me a new self confident me. Thank you Dr. Bassin for giving me such aa wonderful feeling about myself. Oh yes, my family loves my appearance, stating that it has given me such a healthy, refreshed look.
Thank you.
Judith R.
P.S. The staff at Dr. Bassin's clinic were fantastic, always giving me such encouragement.
I have wanted to have several areas of fat removed from my body for about 5 years. I didn't want to have traditional liposuction due to general anesthesia, time healing and work constraints. When I did an internet search, I came across Dr. Roger Bassin's website. I was amazed at the photos of before and after Smart Liposuction patients. I researched Dr. Bassin's credentials and reputation. My first consultation was in July 08 at his Orlando office. The staff was awesome and made me feel very comfortable and at ease. Dr. Bassin was professional and explained every step of the liposuction to fit my needs. The price was competitive to others in the area. My first procedure was September 3, 2008. I was very nervous which is normal, but the minute I arrived, Nikki made me feel at ease. Clyde and Allison were my next contacts and again, I was made to feel confident about my procedure. Dr. Bassin then performed the procedure. What a pleasant surprise. No paint, no problem and within one hour, I was on my way home. I have since had 2 more procedures and one more scheduled. I have also had the pleasure of meeting Sharon and Sara for triactive sessions to promote healing faster. Overall, my experience has far exceeded my expectations. I would recommended Dr. Bassin and his staff anytime. Also, I look great!!! I went down 4 dress sized in less than 3 months. Feel free to contact me if you would have questions. The staff will provide my contact number for you.
Thank you.
Kathryn S.
I would not hesitate having my face done all over again by Dr. Bassin. I have received so many compliments from friends and family about how wonderful I look. My surgery came at such a time in my life. I lost my Son this past year and although we didn't have the money to spend on this surgery, my wonderful husband made this all possible for me.
I had the upmost confidence in Dr. Bassin and felt completely comfortable with my procedure. During the healing process, each day gave me new hope although grieving from the loss of my son. I would absolutely and without hesitation, recommend Dr. Bassin for any cosmetic procedure he offers. I cannot thank him enough for renewing my life. I am 74 years old and feel and look much younger".
Best regards,
Lois R.
May 2007

In my ophthalmologist office for a routine eye exam, I read a brochure on upper & lower eye lid surgery. I felt it was a possible answer to my prayers! I had drooping upper and lower eyelids due to daily medication and aging (I was 58). I consulted with my eye Dr., Internist, Oncologist, as well as speaking with several people who had the same surgery. My Dr.'s gave their approval and the people I spoke with agreed it is a very "simple surgery", with only a few days recovery. I went further getting information from the internet. There are risks with all surgeries and I made a copy of those risks from the internet. The info from the internet also confirmed it was normally a simple procedure with unlikely serious risks.

December 18, 2007 - The Day of my Surgery

I was feeling very anxious, as I felt this could possibly affect my vision. I was given a local anesthetic. During the surgery, my Dr. seemed pleased with my upper lids. As she proceeded to my lower lids, I could sense frustration in her voice. She went back to my right lower lid, which had already been stitched and redid it. I had a feeling it was not going very well. After the surgery I was given a Ziploc bag of ice and sent home with antibiotics. In the afternoon I felt my face swelling to the point I could not see clearly --- only a glimmer of light, as I was severely bruising along with the swelling. My husband called the Dr. immediately and my Dr. was not on call. The Dr. we did talk to said to see someone in their office the following morning. I was shocked when they gave me an eye screening - I barely could see! My Dr. was not in but I was assured by the Dr. on call that I would be fine.

On day 3, I was so happy because I could see - I could not read, but I had my vision. The swelling and bruising continued for several days. I saw my Dr. or another Dr. in her group daily for the first week. All I heard was "You will be alright". The bruising and swelling was so severe that the bruising went from my face to my neck, chest and abdomen. Finally, after several weeks the swelling and bruising started to subside. I was ashamed to even go to another Dr., see a neighbor, grocery shop or even see family. I will never forget that Christmas - I still somehow kept a spirit. (Everyone kept offering me my sunglasses). I think it was too hard for my family to see me like that. I blamed myself for making a wrong choice for a Dr.

May 2008

After 5 months of frustration and being told"It will go away", I told my eye Dr. It was not going away. She tried to convince me otherwise, but I had to move on. She referred me to Dr. Roger Bassin, assuring me he would agree with her "It will go away". It was music to my ears as I had heard so many good things about Dr. Bassin . I actually considered going to him initially, but I did not realize plastic surgeons accepted insurance and have payment plans. I thought a plastic surgeon was only for the wealthy.

I saw Dr. Bassin for the first time in May 2008. I just knew he would agree with my eye Dr. I was shocked when he did not agree and scheduled surgery for me immediately. He was very honest, informing me I had a hematoma and could have gone blind. Immediate surgery should have been done to prevent this. He advised me the bruising will probably be permanent staining. I had another successful surgery by Dr. Bassin in October 2008. Dr. Bassin is not aggressive until he sees results, with a complicated case as mine. Now, I am scheduled for another surgery in November 2008. I am no longer uncertain of the care I will receive. I know Dr. Bassin will do all he can for me. If he can't accomplish results, I don't believe anyone can. Dr. Bassin assured me that the "mess" was not my fault. Dr. Bassin is very thorough in his planning and forthright with his patients.

Everyone at the surgery center Dr. Bassin uses for surgery is knowledgeable, friendly and caring.

I finally have a Dr. who will not quit on me or tell me "It will go away". Those are not his standards. . From the time I walked in his office, his staff was friendly, professional and caring in every way. If I call Dr. Bassin's office I know I will not get someone "on call", as all his staff is aware of his patients.

From my personal experience, I must say DON'T go to your ophthalmologist for plastic surgery. I may be one in thousands but it can happen again.
Thank God I was referred to Dr. Bassin.
Mary P.
Dr Bassin has helped me with the BLL Canthoplasty. My eyes were really dry and I had problems with excessive blinking. This procedure has
improved my quality of life along with my vision. After my surgery, my eyes are beautiful again. I would highly recommend anyone who is having problems with their eyes to contact Dr. Bassin. He is a wonderful surgeon.
Mary T.
I am 50 years old and I was always relatively thin--5'6'' and a size 6-8 and I gained weight to a size 8-10 but only in my waist-tummy thigh area. It wouldn't go away. I don't have children so that wasn't an excuse. I went to see the doctor and he said I'm a perfect candidate for Smart Lipo of the abdomen and love handles. The procedure took about 1 hr and I had no ativan, etc., just local anesthesia. NO BIG DEAL. I never had a pain pill except Tylenol just because I thout it would hurt after I got home. Surgery was on Friday, July 25, and on Saturday-26th, I went to Orlando Airport to get my parents who came from Dallas to Florida. It's about 50 miles to airport and I was FINE. Tis nice doctor worked my mom in for Smart-Lipo on Tuesday (7-29) and she did fine as well. She had DOT laser as well--that hurt. I'm going back on 8-29 to have my thighs done.
I can't say enough about this procedure. I'm a Flight Attendant and I work around so many pretty girls and this really helps my self esteem--it's bothered me for a long time.
Robin H.
I started out having a full body smart lipo approximately one year ago. I had the abdomen area done and it looks like I have a six pack. I also had my back done removing three rolls of fat which turned out beautiful. I also had the neck and chin area done which are beautiful. The inner and outer thighs were done and they look wonderful as well. I couldn't be more happy with my results and I have lost many inches from these procedures.. During the surgery, the doctor and his staff were very professional. I had no pain and I joked around and laughed during my procedure. During some of my procedures, the doctor thought I fell asleep. He kept asking me if I was alright. I was able to care for myself after each of my procedures and had no problems. I had a tummy tuck 10 years ago and Dr. Bassin redid the scars from my tummy tuck on my hips which now look wonderful.
The only area I am not pleased with is my arms. I had the underarms done and unfortunately, my arms did not turn out as well due to sagging skin.
Sandra J.
At 63 years old I wanted a refreshed look. I had the cords on my neck and my eyelids seemed to close off the bright-eyed look I used to have. So I visited Dr. Bassin for a consultation. He suggested an eyelift and half facelift for my neck. I had no pain afterward and a nurse visited me at my home the next day. I am so happy with my softer and firmer look! I also had the DOT therapy on my face, which removed all my brown spots and other imperfections. I would recommend Dr. Bassin and his staff to anyone who wants to look more beautiful!
Barbara B.
Smart Lipo procedures was less painful than I thought it would be. My tattoo hurt more! Everyone in the office is so kind and helpful. I feel so much better about myself already. I look forward to completing my other Smart Lipo procedure and am already thinking about what else I would like to have done. I'm beginning a new phase in my life. I am 40 again!
Bela P.
I had DOT Therapy done at Dr. Bassin's Melbourne office on a Friday afternoon. The treatment was faster than I had expected and felt exactly as explained. Each day following my treatment, my skin looked just like a bad sunburn, pealed and as soon as I followed up with my recommended facial, I have the most amazing skin. My old blemish scars, sun spot damage and age spots were gone! I am very happy with my results and would suggest the DOT Therapy to anyone considering any skin treatment.
Claire N.
Dr. Bassin and his staff are truly amazing. I was very nervous making a hasty decision to freshen up my looks, but Dr. Bassin and his staff immediately comforted my concerns. I must give a special thanks to Nancy his nurse. She truly went above and beyond her duties for me.
Never did she make me feel the extra things she did for me were a bother to her. If you ever felt or been told Drs and their staff in the plastic surgery business were snobby, maybe other offices, but not at Dr. Bassin's office. He too listens to my wishes and never tried to push any other surprises on me. I cannot promise results, but I can promise Dr. Bassin and his staff will go to every extreme to see that you do get what you ask for.
They truly felt like friends, friends you hate see removed from your life because your procedure is done.
Debbie B.
LazerLift™ - Welcome Home Host Barbara Beck
LazerLift™ on The Doctors
Aqualipo® and NaturalFill® on the Dr. OZ show
Aqualipo® and NaturalFill® on the Dr. OZ show
BASSIN CENTER FOR PLASTIC SURGERY
ORLANDO PLASTIC SURGERY
BASSIN PLASTIC SURGERY
422 SOUTH ALAFAYA TRAIL
SUITE 32


ORLANDO

,

FLORIDA

32828
407.851.3888
METRO WEST PLASTIC SURGERY
BASSIN PLASTIC SURGERY
1601 PARK CENTER DRIVE
SUITE 11


ORLANDO

,

FLORIDA

32835
877.333.3223
MELBOURNE PLASTIC SURGERY
BASSIN PLASTIC SURGERY
1705 BERGLUND LANE
SUITE 103
VIERA, FLORIDA 32940
321.255.0025
THE VILLAGES® PLASTIC SURGERY
BASSIN PLASTIC SURGERY
8575 NE 138TH LANE
SUITE 103


LADY LAKE

,

FLORIDA

32159
352.350.9006