Breast Enhancement Orlando, Breast Lift Florida, Breast Implants Orlando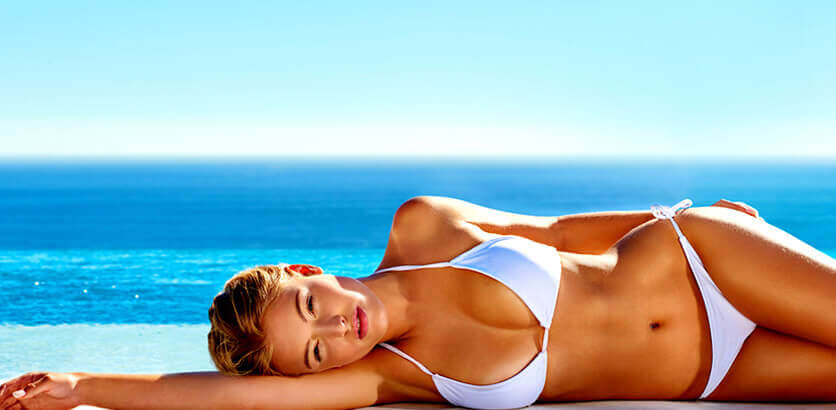 Breast Enhancement
Breast Enhancement
Breast Enhancement
Breast enhancement procedures are ideal for women who want to enhance breast volume, curves, and contours. Women who have given birth or have experienced extreme weight fluctuations can also enjoy the lift and youthful shaping of breast enhancement surgery. Additionally, men are also potential candidates for breast reduction surgery to treat a condition called Gynecomastia. At Bassin Center For Plastic Surgery, we offer the following breast enhancement procedures:
Breast Augmentation
One of the most popular cosmetic procedures available in Orlando is breast augmentation. Women are commonly dissatisfied with the size and shape of their breasts. Utilizing a variety of different-sized and shaped implants, this procedure can increase the volume and balance the shape of your breasts. Different implants can also alter the feel and positioning of your breasts. Some implants produce a more natural, sloping contour while others achieve increased, upper breast volume. Textured implants can reduce breast firmness, and smooth implants can reduce rippling. Our Orlando breast surgeons will work with you to determine which size and shape implant best fits your expectations and natural body type. Learn more about breast augmentation by clicking on the button below!
NaturalFill® Breast Enhancement
If you are dissatisfied by the size or shape of your breasts but don't want to endure the downtime involved with traditional breast augmentation using implants, NaturalFill® Breast Enhancement provides an alternative, minimally invasive option. During NaturalFill® Breast Enhancement, fat is used instead of implants to add volume and shape the contours of your breasts. Fat is taken from one location such as the abdomen, thighs, love handles, or flanks using delicate, water-assisted liposuction known as Aqualipo®. During both Aqualipo® and NaturalFill®, small, micro-incisions are utilized. These incisions do not require stitches, so scarring and downtime are eliminated. Additionally, fat transfer produces permanent results, so you can enjoy your breast enhancement results for a lifetime without revision surgery. Learn more about NaturalFill® Breast Enhancement by clicking on the button below!
Breast Lift
The effects of age and gravity place unfortunate physical stress on your breasts. In addition to life changes, such as weight gain and loss, pregnancy, breast feeding, and menopause, breasts may be unable to maintain their high, youthful positioning on the chest, resulting in sagging. If you are physically uncomfortable or emotionally dissatisfied by the appearance of your sagging breasts, our Orlando breast surgeons can raise and reshape your breasts with a breast lift. Breast lift surgery varies on an individual basis, depending on the severity of your breast sagging and your desired results. Learn more about breast lift by clicking on the button below!
BREAST IMPLANT REMOVAL
Breast implant removal can remove your breast implants for cosmetic or medical reasons. Some patients are no longer satisfied with the results of a previous breast augmentation surgery, while others need to have their breast implants removed due to a medical complication, such as an infection or capsular contracture. Our breast surgeons specialize in breast implant removal and can sculpt the remaining tissue to maintain natural-looking breast contours. Additionally, patients may be able to replace their breast implants with new implants by opting for breast implant revision. Click on the button below to learn more about breast implant removal surgery!
BREAST EXPLANT
If you are no longer satisfied with your breast implants or you need them removed for medical reasons, our Orlando breast surgeons can help. We specialize in breast explant surgery to recreate natural-looking breasts following breast implant removal. Breast explant candidates include patients who are unhappy with a past breast augmentation or need their implants removed due to an infection, ruptured implant, or capsular contracture. Patients may also swap their breast implants for new implants following their breast explant procedure. To learn more about breast explant surgery, click on the button below!
BREAST IMPLANT REPLACEMENT
Breast implant replacement is a revision breast augmentation technique that can remove and replace your breast implants. Whether you want new breast implants that better complement your physique, or you need to have your breast implants replaced for medical reasons, our Orlando breast surgeons can perform breast implant revision to achieve natural-looking results. Bassin Center For Plastic Surgery uses the latest breast enhancement techniques to improve breast contours. Patients can choose from different implant types and shapes that best suit their procedure goals. Click on the button below to learn more about breast implant replacement!
Mommy Makeover
Mommy makeover surgery can restore youthful breast contours following pregnancy and breastfeeding. A number of physical changes may occur as a result of pregnancy, including sagging breasts and a loss of breast volume. Mommy makeover surgery is designed to restore your pre-pregnancy body. This combination procedure utilizes breast lift surgery and breast augmentation to improve breast size, positioning, and shape. Tummy tuck surgery and liposuction are also utilized during a mommy makeover for comprehensive results. Mommy makeover surgery can achieve natural-looking, long-term results. Learn more about a mommy makeover by clicking on the button below!
BreastTite No Scar Breast Lift
A non-surgical breast lift using BodyTite™ can lift the breasts between 2-5 cm. This technology will also tighten the skin and stretch marks in sagging breasts and improve breast contours without the healing time associated with traditional breast surgery. The scarless breast lift can achieve more youthful-looking breasts using innovative radiofrequency technology. Energy from the BodyTite™ device can encourage the production of new collagen fibers beneath the skin while lifting loose skin and enhancing firmness, as well as skin elasticity. Bassin Center For Plastic Surgery offers the non-invasive BreastTite no scar breast lift for Orlando patients looking to reduce the appearance of drooping breasts. Learn more about the non-surgical breast lift by clicking the button below!
NON-INVASIVE BREAST LIFT
A non-invasive breast lift, also known as a scarless breast lift, is an innovative breast enhancement procedure that can tighten and lift the breast skin for a firmer-looking appearance. Factors like aging, pregnancy, and breastfeeding can contribute to sagging breasts over the years. A non-invasive breast lift can firm and lift the breasts without the need for invasive incisions or extended healing time. Your scarless breast lift can cause skin contraction and encourage the production of new collagen fibers for a smoother, more-youthful skin texture. To learn more about the non-invasive breast lift, click on the button below!
Breast Reduction
Overly large breasts can cause both physical and emotional distress. Back pain and chafing are common physical ailments caused by this condition, and simple tasks, such as exercising and clothes shopping, can be difficult. Breast reduction is a popular surgical option for many patients in Orlando suffering from overly large breasts. During this procedure, breast volume is reduced and breasts are actually raised to a perkier position on the chest when combined with breast lift surgery. A lollipop incision around the nipple is utilized during the procedure, but depending on the severity of your condition, a no scar technique using less invasive methods, such as Aqualipo® may be a more viable option. Aqualipo® utilizes water-assisted lipo to gently detach and extract fat, thereby reducing breast size. Learn more about breast reduction by clicking on the button below!
Gynecomastia
Many men suffer from excess and sagging breast tissue, a condition known as Gynecomastia. This condition can be caused by weight gain and loss, certain medications, age, and genetics. If the underlying cause of Gynecomasta is treated but the resulting excess breast tissue remains, you may want to consider cosmetic surgery to smooth the appearance of your chest. During Gynecomastia treatment, a combination of traditional male breast reduction and Aqualipo® is used, depending on the severity of your condition. In mild cases, only Aqualipo® may be utilized, an advanced, gentle liposuction technique which uses water to break apart and remove fat without any resulting downtime or scarring. Results from Gynecomastia treatment are permanent, assuming the underlying cause of the condition is treated. Click on the button below to learn more about Gynecomastia and your male breast reduction options!
How do I get started with Breast Enhancement?
Dr. Roger Bassin, his doctors, and staff at Bassin Center For Plastic Surgery would be happy to help you set up a private consultation to discuss breast enhancement surgery. You can give us a call at 877.333.3223 or schedule an appointment online for a consultation at one of our Florida locations: Melbourne, Orlando, Tampa, The Villages®.
Aqualipo® and NaturalFill® on WFLA's Daytime
NaturalFill®: Lose stomach fat and enhance your breasts at the same time, naturally!
Natural Breast Enhancement
NaturalFill® Increase Breast Size without Implants
NaturalFill® Natural Breast Enhancement
BASSIN CENTER FOR PLASTIC SURGERY
*Disclaimer: The information contained on this website is intended to be purely educational in nature and does not create a physician-patient relationship with the Bassin Center for Plastic Surgery, Dr. Roger Bassin, or any agent, servant or employee thereof. By no means should the information contained in this website be considered as a substitute for consultation with a qualified physician and it does not constitute a second opinion. This website and its contents do not represent or claim to provide the information needed for a patient to give his or her informed consent to any surgical procedure or are a reflection of individual patient results, as they may vary patient to patient. Individual results will vary and no guaranteed result is stated or implied by any photo use or any statement, testimonial, or video on this website. The results depicted in "before" and "after" pictures and stated by any "patient testimonial" illustrate results you may or may not achieve if you choose to have a cosmetic surgery procedure. Individual results may vary by patient. Please see our Notice of Privacy Practices.