Lower Eyelid Florida, Blepharoplasty Orlando, Melbourne Florida Eyelid Surgery, Florida Eyelid Surgery, Blepharoplasty Florida, Orlando Lower Eyelid Surgery, Roger Bassin MD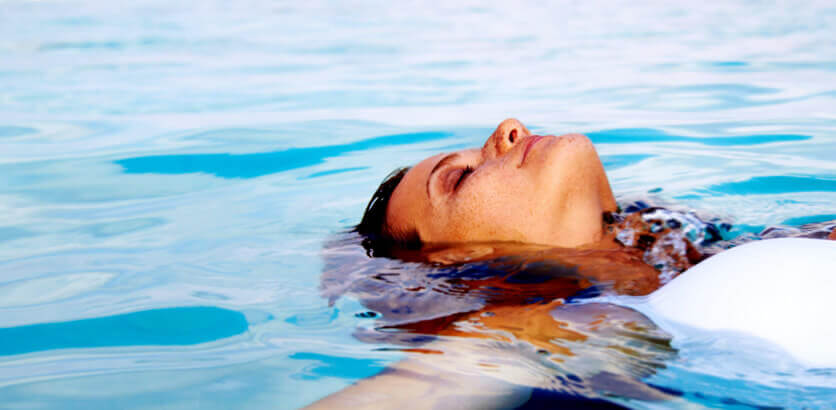 Lower Eyelid Surgery
Lower Eyelid
Lower Eyelid Surgery
Lower Eyelid Blepharoplasty Description
Circles and bags under the eyes are one of the most common complaints for patients seeking aesthetic rejuvenation of the eyelids. It has been scientifically proven that the thin tissue layer responsible for cushioning the area behind the eyes does break down with age. This produces the lower lid bulging fat pads that are a common cosmetic concern. There is also a subset of the population born with a weakened tissue layer who present at a younger age complaining of a similar appearance. These displaced fat pads, and excess skin in the lower eyelids, which commonly occurs with age, and from the effects of chronic exposure to the sun, cause a tired appearance. Through an "invisible incision" placed on the inside of the lower eyelids, these pads can be accessed and carefully sculpted to provide a cosmetic result. Some patients may require small incisions underneath the eyelashes that heal inconspicuously to excise excessive skin which does build up on the outside of the lower eyelids. Dr. Bassin has pioneered repositioning of the lower eyelid fat pads, which shifts the patient's fat pads to fill in the unsightly circles under the eyes, rather than excising them. This prevents a hollowed appearance which has commonly been a problem due to excessive removal of the lower eyelid fat.
Lower Eyelid Blepharoplasty Procedure
During this procedure a 1 cm thick contact lens is placed over the eye to protect the eyeball. This is to prevent the possibility of any mishap to the eye. An incision is placed on the inside of the lower eyelid and the fat pads are accessed from the inside of the lower eyelid. In those patients in whom excess skin is to be removed, a small incision may be placed underneath the eyelashes. This surgery can be performed in the office or as an ambulatory procedure in an outpatient surgical facility. This procedure takes approximately one hour and after the procedure the patient will have ice packs placed on the eye and should expect to have bruising and swelling for 4-6 days. Patients are seen in the office approximately six days after surgery for their first post-operative appointment. The lower eyelid blepharoplasty can be combined with laser resurfacing to treat lower eyelid wrinkling. This same "invisible" incision can also be used to access the cheek, for a cheek mid-facelift.
LOWER EYELID SURGERY Before & After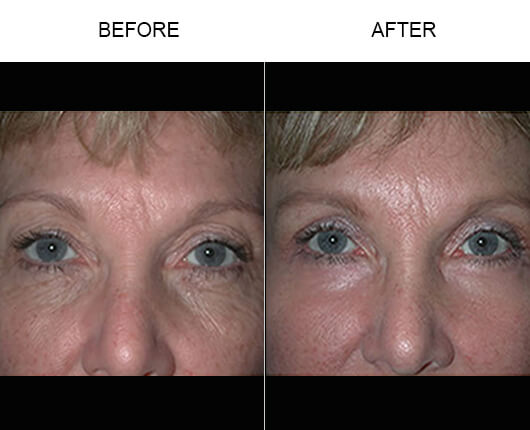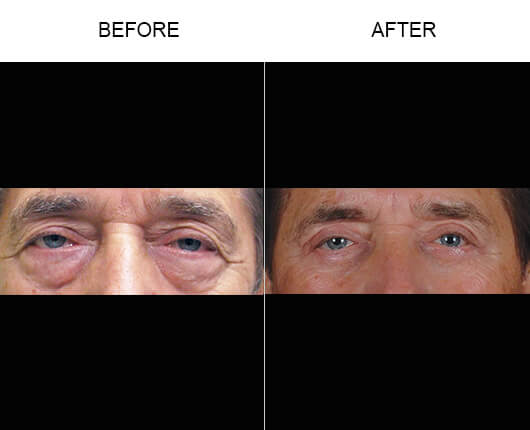 How do I get started with Lower Eyelid Surgery?
Dr. Roger Bassin, his doctors, and staff at Bassin Center For Plastic Surgery would be happy to help you set up a private consultation to discuss lower eyelid surgery. You can give us a call at 877.333.3223 or schedule an appointment online for a consultation at one of our Florida locations: Melbourne, Orlando, Metro West Orlando, Tampa, St Petersburg, The Villages®.
Lower Eyelid Surgery - Welcome Home Host Barbara Beck
Barbara Beck - LazerLift® and Lower Eyelid Blepharoplasty Testimonial
Aqualipo® and NaturalFill® on the Dr. OZ show
Aqualipo® and NaturalFill® on the Dr. OZ show
BASSIN CENTER FOR PLASTIC SURGERY
ORLANDO PLASTIC SURGERY
BASSIN PLASTIC SURGERY
422 SOUTH ALAFAYA TRAIL
SUITE 32
ORLANDO, FLORIDA 32828
407.851.3888
METRO WEST PLASTIC SURGERY
BASSIN PLASTIC SURGERY
1601 PARK CENTER DRIVE
SUITE 11
ORLANDO, FLORIDA 32835
877.333.3223
MELBOURNE PLASTIC SURGERY
BASSIN PLASTIC SURGERY
1705 BERGLUND LANE
SUITE 103
VIERA, FLORIDA 32940
321.255.0025
THE VILLAGES® PLASTIC SURGERY
BASSIN PLASTIC SURGERY
8575 NE 138TH LANE
SUITE 103
LADY LAKE, FLORIDA 32159
352.350.9006