Bassin Center For Plastic Surgery, Plastic Surgery Orlando, Plastic Surgery Team, Plastic Surgery Staff, Medical Team Orlando
Our Team
Our Medical Team
Rochelle Luna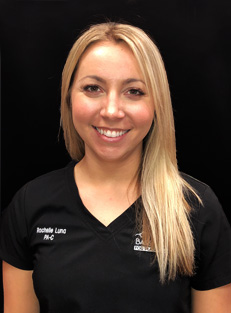 Rochelle is an NCCPA nationally board certified and state licensed Physician Assistant trained in a wide variety of procedures in aesthetics. She has her undergraduate degree from UCF in the field of Biology. Following UCF, she attended the Physician Assistant Program at Nova Southeastern University in Orlando where she completed her clinical training.
Rochelle has been specially trained in clinical dermatology and cosmetic procedures. With a vast knowledge of patient experience and a medical dermatology and aesthetic background, Rochelle will achieve the finest results attainable for our patients. Rochelle's proficient and skilled techniques complement the work of our plastic surgeons, and assist those wanting a non-surgical approach to self-improvement.
Marsha Ostrander
Marsha Ostrander is a certified Medical Aesthetician who practices at Bassin Center For Plastic Surgery. Marsha received her Aesthetics training in North Carolina. She is licensed as an Aesthetician in both North Carolina and Florida. Marsha brings over fourteen years of expertise in addressing the diverse needs of the skin. She has practiced in a variety of professional settings from the prestigious Relais and Chateaux property at Blackberry Farm in Tennessee to Prominent Premier Spa in the Raleigh and Melbourne areas. Marsha is truly a gift to her profession in her attention to detail and her warm, caring professionalism. She is excellent at assessing your skin's needs and providing a plan to accomplish expectations within any budget. She is expanding our plastic surgery practice to offer Extreme Lash extensions, personalized skincare services, an array of at-home medical skincare products and customized medical consultations. Marsha was hand selected to be a member of the Aesthetics Leadership Community. She is also a member of the Society of Plastic Surgical Skin Care Specialists. With a very warm welcome, Marsha looks forward to meeting you at Bassin Center For Plastic Surgery and providing you with personalized services that provide optimal patient satisfaction.
LazerLift® - Welcome Home Host Barbara Beck
LazerLift® on The Doctors
Aqualipo® and NaturalFill® on the Dr. OZ show
Aqualipo® and NaturalFill® on the Dr. OZ show
BASSIN CENTER FOR PLASTIC SURGERY
ORLANDO PLASTIC SURGERY
BASSIN PLASTIC SURGERY
422 SOUTH ALAFAYA TRAIL
SUITE 32
ORLANDO, FLORIDA 32828
407.851.3888
METRO WEST PLASTIC SURGERY
BASSIN PLASTIC SURGERY
1601 PARK CENTER DRIVE
SUITE 11
ORLANDO, FLORIDA 32835
877.333.3223
MELBOURNE PLASTIC SURGERY
BASSIN PLASTIC SURGERY
1705 BERGLUND LANE
SUITE 103
VIERA, FLORIDA 32940
321.255.0025
THE VILLAGES® PLASTIC SURGERY
BASSIN PLASTIC SURGERY
8575 NE 138TH LANE
SUITE 103
LADY LAKE, FLORIDA 32159
352.350.9006