Dermatologist Orlando, Neil Sandhu MD, Dermatology Florida
Neil Sandhu, MD, FAAD
Neil Sandhu, MD, FAAD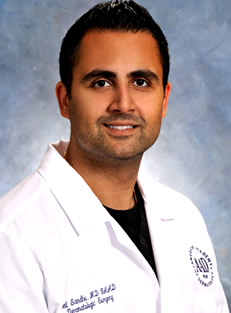 The Bassin Center for Plastic Surgery is pleased to welcome Neil Sandhu, MD, FAAD. Dr. Sandhu is a leading dermatologist in Orlando. He began his medical career at the University of Wisconsin where he earned his Bachelor's degree, graduating Summa Cum Laude. He then went to University of Wisconsin School of Medicine and Public Health, graduating at the top of his class. He was accepted into the dermatology program at the UMDNJ-New Jersey Medical School, where he was Chief Resident. He earned his Board Certification in Dermatology in 2012. Since graduation, he has been a Mohs micrographic surgeon in the Florida panhandle and most recently in Central Florida. His expertise is the detection and treatment of skin cancer. Dr. Sandhu has extensive experience in cosmetic procedures, including BOTOX, filler injections, chemical peels, and photo rejuvenation. This allows him to help his patients look and feel their best. Dr. Sandhu has authored multiple scientific articles. He is a member of the American Academy of Dermatology, American Society of Dermatologic Surgery, and a Fellow in the American Society for Mohs Surgery. He is also a frequent medical guest on local TV shows. Dr Sandhu's motto is "I treat all my patients like I would my own family".

LazerLift® - Welcome Home Host Barbara Beck
LazerLift® on The Doctors
A new revolution in Liposuction - Aqualipo®
BASSIN CENTER FOR PLASTIC SURGERY
ORLANDO PLASTIC SURGERY
BASSIN PLASTIC SURGERY
422 SOUTH ALAFAYA TRAIL
SUITE 32
ORLANDO, FLORIDA 32828
407.851.3888
METRO WEST PLASTIC SURGERY
BASSIN PLASTIC SURGERY
1601 PARK CENTER DRIVE
SUITE 11
ORLANDO, FLORIDA 32835
877.333.3223
MELBOURNE PLASTIC SURGERY
BASSIN PLASTIC SURGERY
1705 BERGLUND LANE
SUITE 103
VIERA, FLORIDA 32940
321.255.0025
TAMPA PLASTIC SURGERY
BASSIN PLASTIC SURGERY
6730 LINEBAUGH AVENUE
SUITE 101
TAMPA, FLORIDA 33625
877.333.3223
THE VILLAGES® PLASTIC SURGERY
BASSIN PLASTIC SURGERY
8575 NE 138TH LANE
SUITE 103
LADY LAKE, FLORIDA 32159
352.350.9006
*Disclaimer: The information contained on this website is intended to be purely educational in nature and does not create a physician-patient relationship with the Bassin Center for Plastic Surgery, Dr. Roger Bassin, or any agent, servant or employee thereof. By no means should the information contained in this website be considered as a substitute for consultation with a qualified physician and it does not constitute a second opinion. This website and its contents do not represent or claim to provide the information needed for a patient to give his or her informed consent to any surgical procedure or are a reflection of individual patient results, as they may vary patient to patient. Individual results will vary and no guaranteed result is stated or implied by any photo use or any statement, testimonial, or video on this website. The results depicted in "before" and "after" pictures and stated by any "patient testimonial" illustrate results you may or may not achieve if you choose to have a cosmetic surgery procedure. Individual results may vary by patient. Please see our Notice of Privacy Practices.