Shalini Kapoor MD, Cosmetic Surgeon Orlando Florida, Plastic Surgeon Florida, Dr. Shalini Kapoor
Kapoor Bio
Shalini Kapoor, M.D., C.M.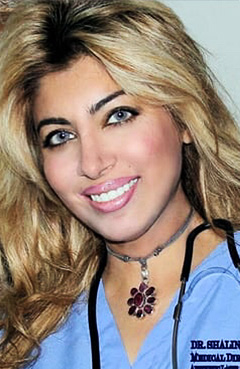 Dr. Bassin is proud to have Dr. Shalini Kapoor as a part of the Bassin Center. Dr. Kapoor joins us from Los Angeles where she has been awarded AMFAST (Allergan Medical Facial Aesthetics Trainer). There are only a few select physicians in the country awarded this prestigious distinction of an official trainer of physicians & PA's in all Allergan products including Botox, Juvederm, Voluma, Volbella, and Vollure. Dr. Kapoor has trained over 200 practitioners over the last 5 years.
Dr. Shalini Kapoor is a renowned surgeon, physician, and laser surgery expert practicing in Orlando, Florida. Dr. Kapoor graduated from McGill University School of Medicine with Honors in Medicine and Surgery. She is certified by the American Board of Laser Surgery, the American Society for Laser Medicine and Surgery, the American Board of Ophthalmology, the American Academy of Ophthalmology, and the American Academy of Aesthetic Medicine.
Dr. Kapoor is dedicated to providing personalized patient care, working closely with each patient to create a treatment plan that best fits their needs and procedure goals. Dr. Kapoor specializes in a variety of different facial & body treatments, including oculoplastic surgery, laser treatments, non-surgical procedures, and cosmetic injections, such as BOTOX®, Juvederm®, Restylane®, and Radiesse®. A laser surgery expert, she utilizes a wide variety of laser, light-based, and radiofrequency technologies in order to achieve and maintain radiant, youthful-looking skin. Dr. Kapoor has developed training programs for laser treatments and cosmetic injections in which she trains her nurse practitioners, physician assistants, and nurses. During these training courses, Dr. Kapoor stresses the importance of technique, safety, patient education, and proper bedside manner.

Dr. Kapoor has published numerous scientific papers and presented her research around the world. She has also received various awards for her work, including the Upjohn Achievement Award for Outstanding Clinical Research and Scientific Presentation and the International Award for Merit and Distinction in Aesthetic Medicine. Dr. Kapoor has appeared in numerous media outlets, including "Keeping Up With The Kardashians." She also has experience as a medical television host and broadcaster, consultant, and expert lecturer.

Dr. Kapoor has a passion for various charitable causes, including the prevention of child abuse, as well as working with numerous children's hospitals, the Make-a-Wish Foundation, the Delta Society, and "Save The Children."

LazerLift® - Welcome Home Host Barbara Beck
LazerLift® on The Doctors
Aqualipo® and NaturalFill® on the Dr. OZ show
Aqualipo® and NaturalFill® on the Dr. OZ show
BASSIN CENTER FOR PLASTIC SURGERY
ORLANDO PLASTIC SURGERY
BASSIN PLASTIC SURGERY
422 SOUTH ALAFAYA TRAIL
SUITE 32
ORLANDO, FLORIDA 32828
407.851.3888
METRO WEST PLASTIC SURGERY
BASSIN PLASTIC SURGERY
1601 PARK CENTER DRIVE
SUITE 11
ORLANDO, FLORIDA 32835
877.333.3223
MELBOURNE PLASTIC SURGERY
BASSIN PLASTIC SURGERY
1705 BERGLUND LANE
SUITE 103
VIERA, FLORIDA 32940
321.255.0025
TAMPA PLASTIC SURGERY
BASSIN PLASTIC SURGERY
6730 LINEBAUGH AVENUE
TAMPA, FLORIDA 33625
877-333-3223
THE VILLAGES® PLASTIC SURGERY
BASSIN PLASTIC SURGERY
8575 NE 138TH LANE
SUITE 103
LADY LAKE, FLORIDA 32159
352.350.9006
*Disclaimer: The information contained on this website is intended to be purely educational in nature and does not create a physician-patient relationship with the Bassin Center for Plastic Surgery, Dr. Roger Bassin, or any agent, servant or employee thereof. By no means should the information contained in this website be considered as a substitute for consultation with a qualified physician and it does not constitute a second opinion. This website and its contents do not represent or claim to provide the information needed for a patient to give his or her informed consent to any surgical procedure or are a reflection of individual patient results, as they may vary patient to patient. Individual results will vary and no guaranteed result is stated or implied by any photo use or any statement, testimonial, or video on this website. The results depicted in "before" and "after" pictures and stated by any "patient testimonial" illustrate results you may or may not achieve if you choose to have a cosmetic surgery procedure. Individual results may vary by patient. Please see our Notice of Privacy Practices.